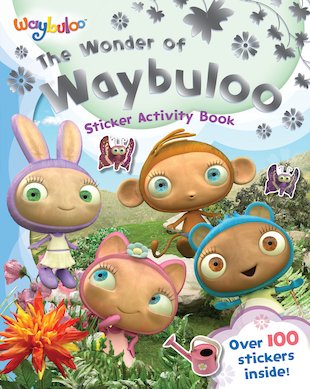 Look inside
The Wonder of Waybuloo: Sticker Activity Book
Enter the Piplings' wonderful world with a magical book of activities. See if you can find your own way to Waybuloo! This book has dozens of puzzles, stickers, games and activities that invite you into the magical Land of Nara, where you can set your imagination free. Meet the Piplings and get to know their different personalities – and learn to have all kinds of fun just like they do! Spellbinding excitement from the favourite TV show which helps young children to relate to one another.
Includes over 100 stickers.
Fun Stuff
Activities
Colour this pretty picture of De Li as she floats up into the sky. Buloo!

Lau Lau loves to paint the other Piplings, and now you can paint her too!

Nok Tok loves to invent things for his Pipling friends. What colours will you make him?

Colour this fun picture of Yojojo playing music for the other Piplings.
Who's reading this?