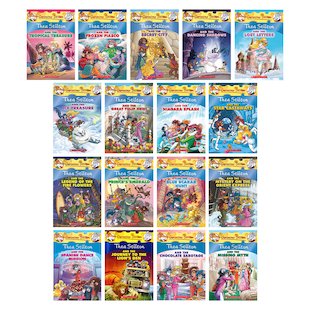 Look inside
Thea Stilton Pack x 17
Say cheese! These adventures have great chuckles and colour pictures, and they'll take you right around the globe. Just like her big brother Geronimo, Thea Stilton is a mouse with a nose for a good mystery. But unlike scaredy-mouse Geronimo, Thea loves adventures. Join Thea and a group of her students, the plucky Thea Sisters, as they head around the world, cracking cases wherever they find them. Can you help to solve each mystery by unravelling the clues?
A fabulous spin-off from the Geronimo Stilton series
Full of adventure, humour and fantastic colour artwork
Fun design with highlighted words to boost vocabulary
Follow the interactive clues to help solve each mystery!