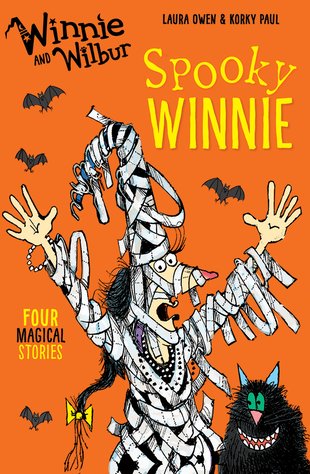 Look inside
Winnie and Wilbur: Spooky Winnie
Ghosts, frights and witchy magic. Get the creeps with Winnie and Wilbur! What's even funnier than Winnie? Winnie plus ghosties! (Whoo-hoo.) Here are four spooky stories about your favourite witch and her cat, bursting with funny frights galore. You can keep them all to yourself, or share them with a brave grown-up. Just be careful not to scare them silly! Perfect for Halloween or winter nights – full of ghosts, trick-or-treats and daft mayhem. Plus the zany Korky Paul pictures we all adore.
Spooky magic with Winnie and her trusty cat Wilbur
Part of a best-loved series with fans all over the world
This easy reader contains four illustrated short stories
Hilarious and confidence-building way to boost skills
"Funny, mischievous, silly, and exciting." Giles Andreae
#autumn-reads07092016
#starbuys-092016
#halloween-1016
#halloween20-16
Fun Stuff
Activities
Here's a funny picture of Winnie the Witch for you to colour in.

Brighten up your computer desktop with a magical Winnie the Witch wallpaper.
Who's reading this?