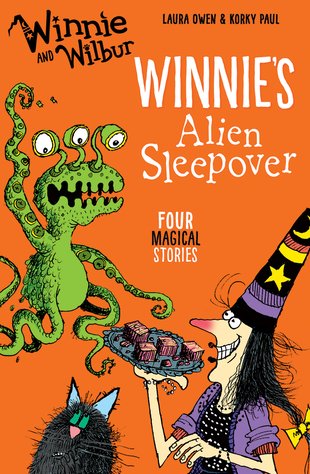 Look inside
Winnie and Wilbur: Winnie's Alien Sleepover
Winnie has a new partner in fun-loving mischief: an alien from a distant star. Plus: Wilbur is on TV. Laugh your socks off. You can't help it. Hurray: four more daft short stories starring your favourite muddled-up witch. All with Korky Paul's super-funny pictures. Very silly things are going to happen! If you look up at the stars on a spooky dark night, what will you see? A shooting star? An alien? A witch flying through the air on a broomstick? Well, if you're very lucky and you read these stories, you might see all those things at once!
Four easy-read stories from this bestselling series
Perfect for growing fans of Winnie's picture books
Exuberant black-and-white artwork by Korky Paul
Great for solo reading or as shared bedtime stories
Fun Stuff
Activities
Here's a funny picture of Winnie the Witch for you to colour in.
Who's reading this?