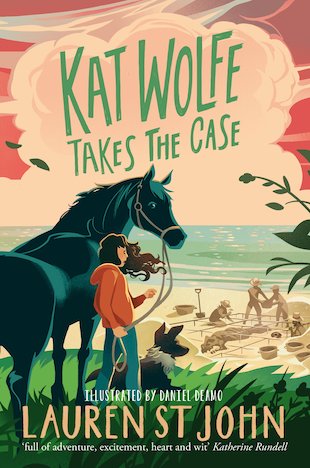 Look inside
Wolfe & Lamb #2: Kat Wolfe Takes the Case
From dino skeletons to eerie crimes, life's never dull for brave young sleuth Kat! When a landslide on the Jurassic Coast reveals a rare 'dragon' dinosaur, best friends Kat Wolfe and Harper Lamb are thrilled. All of a sudden, stars and scientists are flocking to sleepy Bluebell Bay. It's all happening! But the excitement takes a nasty turn when a suspicious death rocks the town. As Kat and Harper start to investigate, events spiral out of control. Has a crime been committed? Nobody is sure – yet. But one thing is for sure. Kat's fierce wildcat is in trouble. Will solving the mystery help to save his life?
Second in this thrilling mystery series by a top author
Adventure, freedom, friendship and a fierce wild cat!
Beautiful natural setting on the Jurassic Coast in Dorset
Lauren St John won huge acclaim with The White Giraffe
She also won the Blue Peter Prize for Dead Man's Cove