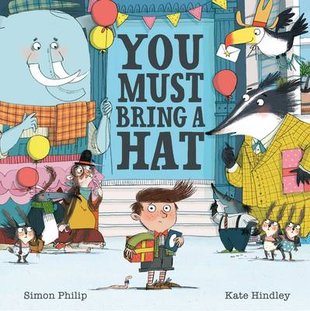 Look inside
You Must Bring a Hat
The party only has one rule: bring a hat. Sounds simple, right? Don't be fooled. (Do laugh out loud.) The little boy in this story has a small problem. He doesn't own a hat. Will bringing a monkey wearing a hat do the trick? Uh-oh: monkeys in hats aren't allowed… unless they're also wearing a monacle! Oh, and by the way, no tutus are to be worn unless the wearer is joined by a penguin. Perhaps there's more than one rule after all… With its surreal storyline and quirky pictures, this book is your invitation to the BIGGEST, BESTEST, HATTIEST party of ALL TIME! Wear a hat, a pink tutu – and a big smile!
A hilariously offbeat picture book full of surreal humour
Witty, detailed art by Kate Hindley – a name to watch!
Kids will laugh out loud at the zany rules for this party
Perfect for fans of Jon Klassen and Helen Stephens
"This glorious cumulative story… builds to a superb and wholly unexpected ending which will delight young readers." Parents in Touch
#funnybooks-springclub-17
#hiddengems-0517
#oi-cat-reading-list