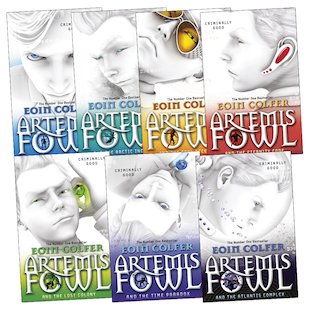 Look inside
Artemis Fowl Pack
Dressed up with a slick new look, young evil genius Artemis Fowl is back! One teenage criminal mastermind. A legion of deadly fairies with mega firepower. Seven cracking thrillers to take you by storm! Twelve-year-old Artemis is a brilliant criminal prodigy. But when he double-crosses a legion of rowdy, violent fairies, he's bitten off more than he can chew. For a start, leprechaun weaponry is much more advanced than our own. And to make matters worse, he's kidnapped a hard-as-nails heroine from the Leprechaun Police Department, whose commanding officer will stop at nothing to get her back. Even a ruthless genius like Artemis Fowl is going to have a riot on his hands. Stand back! These fairies are dangerous!
"Artemis is a brilliant creation." Anthony Horowitz
"Fast, funny and very exciting." Daily Mail
"Folklore, fantasy and high-tech wizardry… Hugely entertaining." Observer
Fun Stuff
Quizzes
Activities
Download the brand new cover look wallpaper!

Download the brand new cover look wallpaper!
Who's reading this?