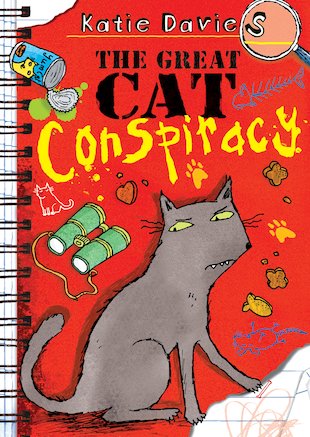 Look inside
The Great Cat Conspiracy
The New Cat keeps dragging dead things into the house as presents for Tom. And when he brings in the head of the vicar's very expensive Koi carp and the vicar makes Mum pay £200 for a replacement, it's the last straw. Anna's Dad is so cross he locks the New Cat out, sealing the cat-flap overnight. Tom begs for the cat to be let back in – but by morning, when Dad relents, the cat has disappeared! Anna, Suzanne and Tom are convinced he has been kidnapped. But who is responsible? The latest fantastically funny novel from Katie Davies, who has become this year's top name to watch!
"Another first class read… There is still something uncanny about how brilliant these books are. What sets out as a witty, warm, animal-based 'crime' turns subtly and deftly into a superlative story about something else." Bookbag.co.uk
Fun Stuff
Activities
Complete this missing pet poster!

Guide the hamster through the maze – but watch out for that cat!

Unscramble the letters to find the hamster words!
Who's reading this?